The family that cosplays together stays together, or something like that…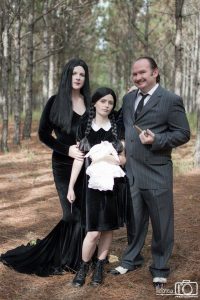 It all started in 2011 as a means to have quality father-daughter time. Liz and Dennis Cutter were both in to all things nerdy and Halloween wasn't enough for fun with costumes. After a few conventions, it became a regular weekend occurrence where they would travel to exciting places and meet interesting people all while developing a growing cosplay hobby.
In 2015, Tara Dunn joined the group, making things complete both as cosplay team and as a family. The trio now travel to conventions throughout the Southeast with characters from DC, Marvel, the Addams Family, anime, and many more. The House of Dunn-Cutter is well on its way to make a name for themselves on the cosplay scene.