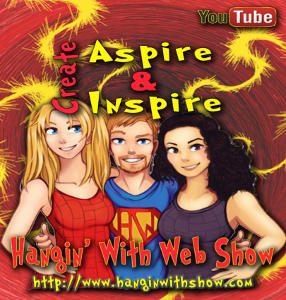 The Hangin With Web Show is the internet's best web talk show series.
The Hangin With Web Show host and creator is author and journalist (Garrett) G.W. Pomichter. While attending a writers conference, we noticed that many of the independent authors had never received any media attention. After many conversations, he discovered that this was also true of artists, indie filmmakers, and event YouTube creators. We decided to change this. As a former newspaper reporter, Garrett had conducted hundreds of professional interviews and decided at the event to interview these terrific, talented but underappreciated creators.
Our mission is to provide comfortable, professional and informative media coverage to members of the arts and entertainment community and distribute these to the world wide web to assist in sharing new creative works with a global internet audience.
You, as a viewer are an important part of this mission! Please stay, subscribe and view, comment and share these interviews with our writers, artists, and creators!
Interviews are FREE for creators and the show is brought to viewers across the worldwide web via YouTube.
The Hangin' With team travels to conventions and conferences to talk to creators where they are among fans in a friendly and professional environment.