Space Coast Comic Con – September 09, 10 & 11, 2016
301 Tucker Ln, Cocoa, FL 32926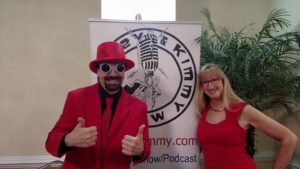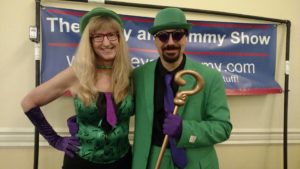 The Riley and Kimmy Show does a daily nerd talk show/podcast. They talk about comics, movies (classics and current), TV and radio of yesteryear, collecting, cosplay, conventions and more. If it's nerd/geek related it's an open topic on The Riley and Kimmy Show. Hosts Patrick Riley and Kimmy created the show to offer a positive form of pop culture escapism. Patrick Riley and Kimmy are central Florida residents. They have four dogs, two parrots, a tortoise and other fur-kids. Because of their love of animals and support of animal rescuing/adoption, they launched a spin-off to The Riley and Kimmy Show and that is Animal Special….a program where they talk about animals/pets and interview those offering tips/sharing experiences.
Patrick and Kimmy are originally from the Midwest. Kimmy grew up in Northern Illinois outside of Chicago and Patrick in rural America out on the prairie. Patrick began his commercial broadcast career at a tiny AM radio station at the age of thirteen and, eventually, like in the theme song of WKRP in Cincinnati, would work up and down the dial, with a career leading to Morning Drive positions, TV and eventually upper management.
Patrick and Kimmy are both collectors of comics, toys/action figures/art and both cosplay from time to time.
The Riley and Kimmy Show's 1000th podcast is going to happen this month. The 1000th podcast will be recorded September 24th
The Riley and Kimmy Show current/archived podcasts/episodes available:
Connect with them on social media (they follow back)
https://www.facebook.com/therileyandkimmyshow
https://twitter.com/RileyandKimmy
https://www.instagram.com/the_riley_and_kimmy_show