Space Coast Comic Con – September 09, 10 & 11, 2016
301 Tucker Ln, Cocoa, FL 32926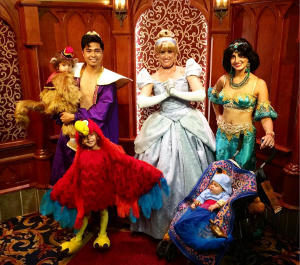 "We take "Dress Up" to the next level.
It's a serious business in my house, trust me. 😉 "

Nephi Garcia, a dad of three, specializes in enchanting costumes based on beloved Disney characters. An accomplished fashion designer who used to work in high-end fashion, now devotes his time to designing and selling costumes for his business, Designer Daddy Shop. The idea for the costume shop started when Garcia made his daughter a Fairy Godmother costume, which she wore to Disneyland. When the costume made its big debut, fellow Disney fans at the park couldn't get enough.

Garcia makes an assortment of outfits for his kids, who have dressed up as princesses, villains and sidekicks. His 6-year-old daughter Lili especially loves the "transformation dresses" her dad makes, like the one that changes from Belle's classic "Beauty and the Beast" blue and white dress to her yellow ball gown.



"I just want to tell fellow cosplayers and costume designers, any dream that they have keep following it,"