Space Coast Comic Con – September 09, 10 & 11, 2016
301 Tucker Ln, Cocoa, FL 32926
Get Tickets Now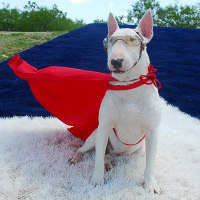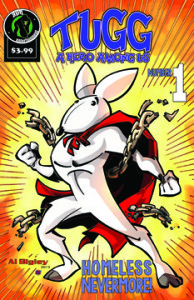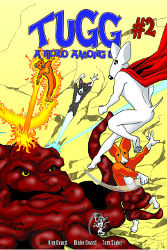 TUGG BULLTERRIER
Blake Ovard
(Creator – Tugg: A Hero Among Us)
Blake Ovard has worked as a professional artist for more than two decades, and has been rescuing animals in danger even longer. Blake has won numerous awards for his realistic pen and ink stippling art of wildlife, with pieces featured in gallery exhibits, art festivals, charitable organization promotional posters, stamps, and hundreds of newspapers and magazines around the world. He is also an accomplished children's book author and illustrator with "Whose Feet Are Those?" "Flamingos Everywhere" and "Tugg's Doggie Rulebook."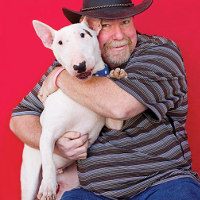 Kim Ovard
(Creator – Tugg: A Hero Among Us)
Kim Ovard is an award winning photojournalist and has been involved with animal welfare and rescue for most of her life. Growing up in Missouri, she was instrumental in coordinating the rescue of thousands of animals in 1993 after the Mississippi and Missouri rivers flooded to well over the 500-year flood level. Kim has been a lifelong lover of comics, and would think of possible story lines when working with animals. When she met and married her husband, Blake, they would create short, four-eight page mini-comics for local schools. Kim and Blake would create the story, and Blake would draw it.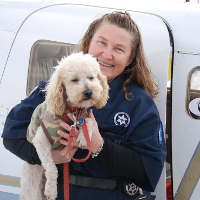 All of the elements for art and animal rescue came together for Blake in one small rescue dog that was wrapped in a blanket, and that blanket was staked down beside a busy six-lane highway in the hot July, Texas heat. That 4-month-old puppy was Tugg, and as Blake and his wife, Kim, nursed Tugg back to health, it was soon apparent that Tugg was indeed a real-life super hero dog. All Blake had to do was chronicle Tugg's adventures. "Tugg: A Hero Among Us" was born. The quarterly series is a non-stop, super-fun ride for all ages, following along as Tugg saves the world from things it didn't even know were dangerous.
For Tugg's, and Blake's, humanitarian work of working with schools, where Blake created and developed anti-bullying and self esteem programs featuring Tugg going to hundreds of classrooms, with videos, worksheets, and coloring books, and creating therapy programs with Tugg for various local elderly care facilities, Tugg was awarded the highest award from the American Kennel Club (AKC) — the Award for Canine Excellence, Companion Animal. Blake and Tugg were a featured guest at Dallas Cowboys Stadium's Rally Days celebrations before every home game for the last two seasons, and were there to help team owner Jerry Jones present the award when the 1 millionth visitor walked into Cowboy's Stadium. Tugg has also been featured in dozens of T.V. and newspaper news stories, was the "celebrity guest dog model" at the annual Fashion Group International fashion show in Dallas, appeared on T.V.'s "Nashville" and has been a spokes-dog for various charitable organizations ranging from cancer research to children's advocacy groups.
When not trying to keep up with Tugg and his busy schedule, and writing and creating the art for "Tugg: A Hero Among Us," Blake also creates sketch cards of all kinds of heroes and villains, fine art paintings, and blank sketch comic cover commissions featuring Tugg as a character from whatever book it is. He and Kim also work in animal rescue each and every day and have started a non-profit rescue, Tugg's Pink House of Wuff, Inc., and all of the proceeds from the sale of Tugg's series go to the rescue.
Say hi to Tugg at the Space Coast Comic Con!