Space Coast Comic Con – September 09, 10 & 11, 2016
301 Tucker Ln, Cocoa, FL 32926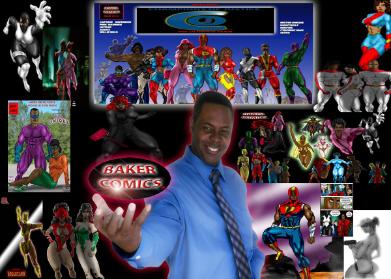 Terance is just your average red blooded American Guy who loves to draw. He has been drawing for as long as He could first pick up a pencil. He first noticed comics in the 4th grade in middle school and actually started collecting them at the age of 7 years old. He first bought comics just to look at pictures. Then he started reading them and enjoying the stories as well. He was hooked on sequential art from a very young age. He enjoyed the fact that He could look at an entire universe on just stapled pages and it was loads of fun. Comics became something He would be linked to at that point and He knew it, of course He didn't know how much He would be linked to them but He knew it was a hobby that He was going to have for a long time.
Comics were a form of entertainment for him from the get go. He enjoyed the characters that were bigger than life and it was something He found fascinating at a very young age. When He was a boy there were only a few superhero TV shows around, and CGI was still a few years away from being invented, so 2 dimensional page images were the big thing back then.

He has a few websites:   www.bakercomics1.com , www.independentcreatorsconnection.com , www.onecoolstudio.com

You can also find Terance's art on deviant art at: Artistbaker2011 , as well as on Facebook at: Terance Baker
He is passionate about the medium of art and creativity and has proud of the fact that He's published over 25 currently   Comic books since 2013 through Indy Planet. You can find them all at:
In his own words Terance describes the wonderful feeling his has today: " I am fortunate enough to be part of a wonderful group called ICC, Independent Creators Connection which I founded.   ICC has been a fantastic collaborative group; some of the books I have published are due to some collaboration in that group. We motivate, inspire and help creators, we started with about 25 members in 2013, and today we have over 6, 300 members. Due to the successful expansion of ICC Terance has been featured on numerous radio shows, interviews, blog shows, podcasts, a couple of local magazine articles and a guest speaker at various events to include being on a panel for a convention recently. That says everything."

He has over 70 characters that have gotten copyrighted under Baker Comics, and one of the most popular ones is called The Pink Hammer, He often says don't ask him why, with a smile, and   Pink has been fortunate enough to be cosplayed not only by his wife, but a coworker and also make it to TV in a New York based channel and also YouTube Web series called Body Jumpers courtesy of Mr. Alex Fernandez and team. Pink Hammer became so popular that the group ICC managed to get fans to do a fan art book. As of today The Hammer has had two issues of her series published, and has actually appeared   in other creators comics as a guest star.   Terance is very grateful for all affiliated with his character, this is an honor that is matchless in his opinion.